The purpose of this blog post is to provide 12 Top Tips during the runDisney Dopey Challenge, in hopes to make your first (or next!) Dopey Challenge an amazing event. Perhaps you're debating whether to run your first Dopey Challenge, or you're a repeat customer trying to figure out how to make the four day endurance event a bit easier on your body.
While I've run 13 marathons (six of them at Disney), this year was my first Dopey Challenge. I was a bit hesitant to take the plunge, especially with four early wake-up calls, and I'm a morning person! Suffice to say that I'm very glad I ran the runDisney Dopey Challenge, and kind of wish I had done it sooner!
Before tackling the Dopey Challenge Top 12 Tips, a brief overview!
The RunDisney Dopey Challenge is a four day event (Thursday-Sunday) which comprises a total of 48.6 miles over four races: 5K, 10K, half marathon, and marathon.
Cost: $590 in 2020
Park admission: is not included! You will run through the parks during the races, but it does not provide entry post race.
Parks on race course: 5K/10K – Epcot. Half marathon – Magic Kingdom & Epcot. Marathon – all four parks (MK, Epcot, AK, HS), plus Blizzard Beach.
Start time: 5:30 a.m. for all races, except the marathon starts at 5 a.m.!
Bibs: two provided: one for 5K/10K, and one for HM/marathon. Note your corral assignments for two bibs may be different.
Registration timing: For Dopey Challenge '21, registration begins on April 7th, 2020. Note, DVC members and AP holders typically are able to register ~one week earlier. In both the general public, and early dates (AP/DVC), the slots sell out quickly! If you're serious about doing the event, then sign up EARLY. Note, race dates for 2021 are January 6th – 10th.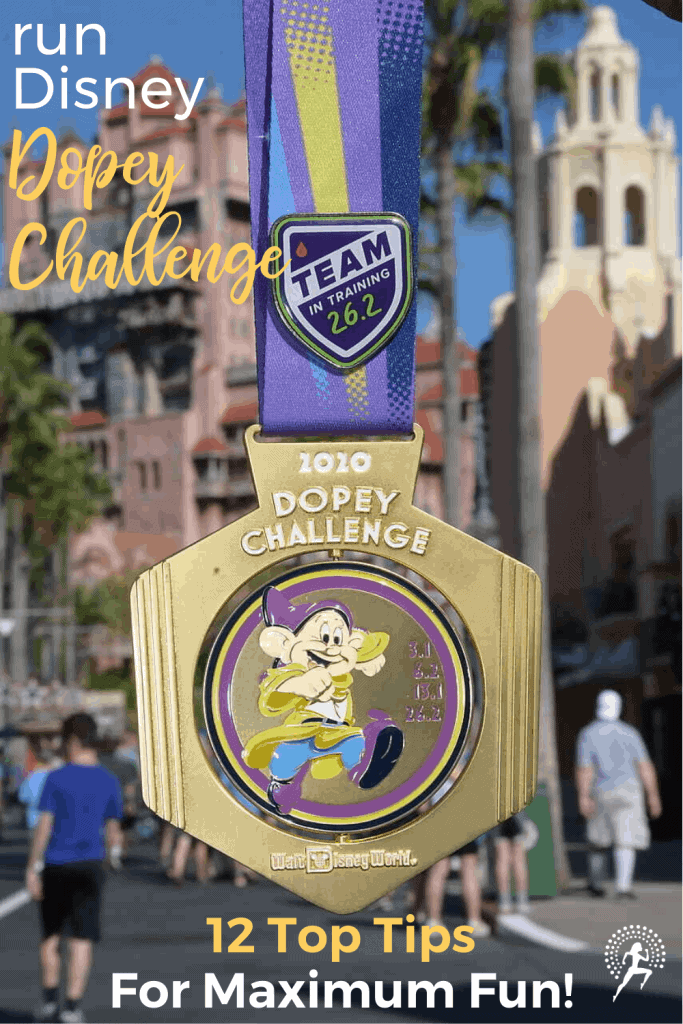 runDisney Dopey Challenge 12 Top Tips
1. TIME MANAGEMENT is huge. While running/walking 48.6 miles is a BIG challenge, waking up 2-2:30 a.m. four days straight can put you in a zombie like state. Here's some strategies to make your early mornings (and the rest of your day) go more smoothly:
Lay out all of your items the day prior. This includes what you eat/drink pre-race, plus everything else you'll need for race day. (Put your bib on your shirt!) Granted, the 5K/10K require less "stuff," but still prep the day before. An extra 15-20 minutes of sleep in the morning can make a difference! Not to mention a less stressful start.
If you're taking bus transportation, know you can snack on the bus en route, as you'll likely have at least 1-1.5 hours to kill once you reach the bus drop off.
There is a "no bag" check point for security clearance which goes faster than security clearance for bags. If you do check a bag, you must use the large, clear bag that RunDisney provided at expo.
Know that for the half marathon/marathon, you need to walk almost a mile to the start line corrals, so plan time for that as well. There are porta-potties at the corrals.
You need to do all this race morning before the start: wake up, dress, eat, transport to start, go through security, bag check if checking a bag, porta-potty x1-2, walk to corral for HM/marathon, and likely take a few pictures. Ensure you get up early, and prep the day before!
2. Be on the first bus! I know. It sounds crazy. But, things can go wrong, as they did this year. An accident occurred on marathon morning, which meant some runners were getting off buses to attempt to run to the corrals (as much as four miles from start!). The worst thing is that you have extra time to kill either at the 'village' or in your corral. BUT, it'll be less stressful! (Start times for bus transportation from resorts is 5K/10K: 3:30 a.m., HM: 3:00 a.m., Marathon: 2:30 a.m.)
MORE RACE TRAVEL TIPS!: Avoid These 10 Mistakes with Race Travel
3. Get to the FRONT of your corral. Each corral has multiple wave starts, so depending on the corral, you may be the 4th+ wave if you're towards the back. The earlier you start, the more time cushion you have. (Another reason to get on the bus early.)
4. Carry salt packets or SaltStick Fastchews. The RunDisney med tents do an amazing job, but they do not provide salt. Yes, PowerAde provides some sodium and other important electrolytes. But, if the temps are warm (as they often are), this is especially important for the HM and marathon.
MORE PHOTO TIPS!: runDisney Race Photo Tips for Best Results
5. Definitely take advantage of the character photo stops, but with an eye on your total run time. Disney has a 16 minute pace/mile for the half marathon and marathon. This is from the last corral, and the balloon ladies maintain the integrity of the 16 minute/mile pace time.
The bulk of Disney characters are within the parks, but they're also some along the course as well. A Disney CM will take photos that links to your race bib (instructions here), but they will also take a picture with your phone for character photos.
(Dopey Challenge Pro Tips: Consider taking more character photos during the 5K when there's not a strict time limit. And, plan on pacing at a 15 minute mile pace max in order to account for bathroom stops, photos, for HM/marathon.)
Dopey Challenge Top 12 Tips, continued…
6. Use the bathrooms in the parks! Yes, there are porta-potties along the route outside of the parks, but if nature can wait, use the park bathrooms instead. Cleaner, brighter, and you can wash your hands!
(Dopey Challenge Pro Tips – READ the event guide! It is electronic, easily accessible by phone, and provides a ton of information. Each year, things are tweaked, so this is the best place to go for last minute details. Take a few minutes to read the guide to have the best race experience!)
7. Official RunDisney merchandise and commemorative items sell out FAST. As in the "I did it" shirts, etc. The official merchandise is located at the Arena at EWWS (ESPN Wide World of Sports) near the expo entrance. If you have your heart set on a certain item, go early on Wednesday. Also know that some RunDisney items are sold at race start/finish staging area.
8. If there's a race to dress in a costume, it's a RunDisney race! There's a ton of options for runner friendly themed pieces now. I saw some runners during the marathon with full, heavy costumes. They were dragging, and looked slightly miserable. It might be better to go all out for the 5K/10K if you choose to do that. RunDisney has costume policies to be aware of though. We dressed up as the Mighty Ducks in 2019, and had small plastic hockey sticks that were confiscated at security check!
9. Get creative with your medal photos. In the parks, ask a CM to take a magic photo with your medal for something different, and memorable. Note the picture to the right!
10. Dopey Challenge + spending all day in the parks = a bad idea. Seriously, the 48.6 miles plus four 2:30 a.m. (or earlier) wake up calls means more rest during the day. Each day I took a short 20-30 minute nap with my feet elevated. I did not go to the parks on two days, and for a short while on the other days. You need to manage your endurance not just during the events, but all weekend long!
More Tips!: Tips to Stay Healthy Before, During & After Your Marathon
11. Purchase Photopass Memory Maker if you're not an Annual Pass holder. It is a bit pricey at $169 (if purchased in advance). However, if running with a friend(s), you can split the cost (up to five bibs per account per race). If you opt not to purchase it, you can still have a Disney CM take your photo at character stops, but you won't have any actual running/finish line photos. I have over 500 photos from the weekend, including time in the parks! Disney does a pretty amazing job with race photos, so seriously consider it!
(Dopey Challenge Pro Tips: try on one of the race shirts before you leave the expo, as you can exchange for a different size. This year, some shirts fit differently (meaning a small 5K shirt fit differently than the small half marathon shirt)! You pick one size for the SIX shirts that you receive for the Dopey Challenge.)
PACK SMART!: Essential Packing Tips for Your Next Destination Race
12. Pack options for a change in the weather as it WILL change over the weekend (yes, it CAN and does get down into the 20's in Orlando!). Decide the day prior on the final "ensemble." This includes buying a couple cheap "throwaway" items (like a sweatshirt) that you can wear during a chilly start. RunDisney donates all clothing thrown off at the race course. Options? The clearance racks at Target, Walmart and Goodwill. A $5 investment can make that 1.5 hour wait in chilly weather worth every penny.
Did You Know?
If running Dopey Challenge (or Goofy Challenge), you must get your picture taken at expo so they can verify "you are you" before giving you the Dopey medal.
You must pick up your own race bib (assuming you're 18 years or older).
You need at least a couple hours to get through the race expo.
Spectators for the 5K/10K can cheer for you only at the start/finish. A lot more opportunities for the half marathon and marathon; details here!
If you sign up early enough, your name will be on your bib (nice!). But, putting your name on your shirt will get you more cheer support throughout the course.