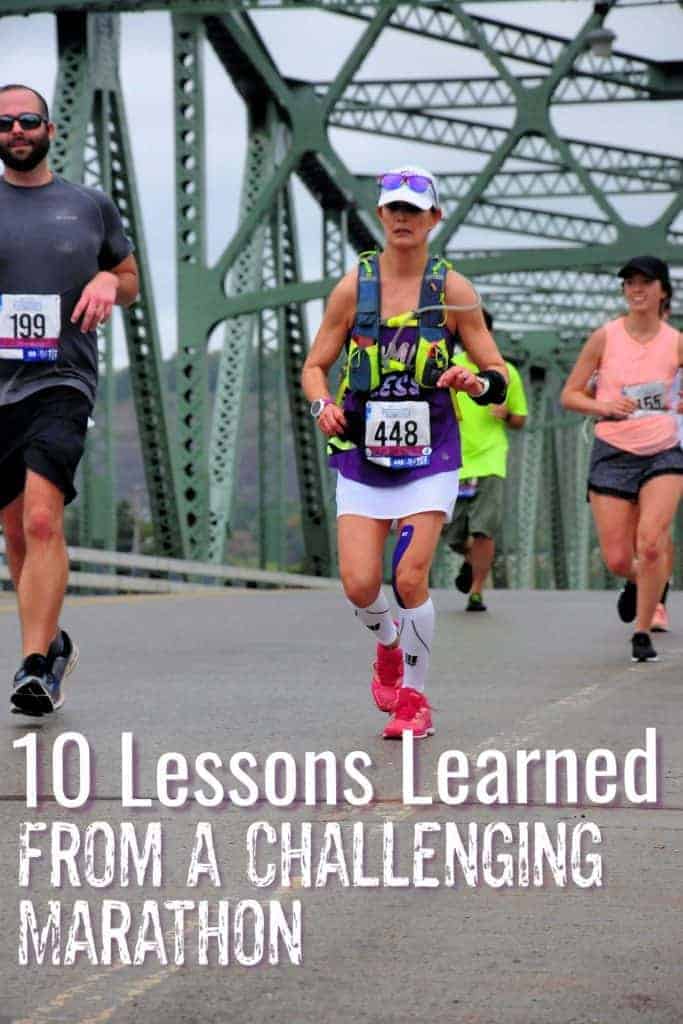 Going into my 12th marathon, The Wineglass Marathon, I had high hopes to qualify for the Boston Marathon. Most things during training had gone right, with the exception of a hamstring strain six weeks prior to the race. That curtailed/eliminated a few run sessions, and I missed two of my longest runs prior to taper mode. (Below are some marathon tips and lessons, as obviously things did not go according to plan.)
Yet, I had trained very hard; my times and pace improved. I did speed workouts, intervals, long runs, and long runs at race pace (13.1 mile @ race pace). I was very uncomfortable while running on a repeated basis; many of the workouts were tough! I was disciplined with foam rolling, my PT exercises, strength training, and my nutrition. I didn't miss a scheduled run with exception of those that were changed/eliminated due to an injury. Overall, it seemed a BQ was a somewhat reasonable goal (essentially repeating my previous PR).
But, October 6th was not my day. The race did not go well, and I want to reflect on, and share lessons from likely my toughest marathon yet. I read in the book Meb for Mortals to not beat yourself up if you have a tough race. Rather, learn from it to improve next time. Or, perhaps you can learn from my experience to ensure your next race is better!
A very brief recap of how things went sideways... The overall theme is I had cramping at/below my rib cage (both left/right side) from mile 11 through 24. It made breathing more difficult, painful and shallow. It only seemed to improve with easing my pace, or unfortunately, walking. I felt rumblings of it as early as mile six, and it intensified from there. My first half was ~2:02:30, essentially just on track to BQ (at 4:05). My second half was much slower at 2:36.
Marathon Tips and Lessons, Part 1
Lesson #1: Not trusting my gut with race strategy. On my best marathon finish (4:02:50), I ran an even pace (just 30 seconds difference between first and second half). My idea for Wineglass was to repeat this, and go out a tad easier the first two to three miles, around 9:15 pace, and then build. My coach suggested that was not a good idea, and shoot for 9:00-9:10 pace instead. I went with his plan, even though I know myself fairly well as a runner.
Lesson #2: I went out too fast. (Note this is a marathon tip I thought I had mastered!) My first three miles averaged 9:02, and I felt my pace slipping by mile six. I realize that may not sound like a big difference time-wise, but it was for me. Keep in mind a 9:14 pace would have yielded a BQ and likely race entry. Every time I've started too fast in a marathon, I've paid for it. Meaning, my effort level was very high considering my finish time. And again, I should have gone with my gut on what works for me with a hard effort marathon.
Lesson #3: Too much emphasis on the result/goal. I put too much emphasis on the result/goal vs. focusing on the process and execution of the race. My previous PR marathon had a "looser" goal of improving on previous PR, running even splits, and finishing between 4:00 – 4:08 hours. For Wineglass, there was too much stress and attention on my time goal, and I then ignored key aspects of what was going "wrong" during the early miles.
Lesson #4: Have an "A" goal only. You can have an exceptional or a disastrous day with marathoning. When it appears your A goal is no longer reasonable, I think it is wise to have plan B, and C in order to stay focused/motivated for balance of race. It is easy to implode when your goal is slipping away, you're exhausted, and are far from the finish line. A plan B or C doesn't imply you won't commit to your A goal. Granted, when I was feeling terrible before the halfway point, I began considering a B goal (just hit 4:05), and C goal anyhow.
Lesson #5: Lack of race course knowledge. I read Wineglass was a "PR, downhill course, one with 200' net elevation loss." I did not realize that meant 500'+ elevation gain (most in first half), and a 700'+ elevation loss. 500' elevation gain during a marathon is not awful. But, it will impact effort level, and "mess with your mind" if your expectations versus reality are different.
Marathon Tips to Succeed, Part 2
Lesson #6: Mind games help. Much of the race had traffic cones. Once the cramping really set in, I'd tell myself "run to the next traffic cone." Then, once I got there, I'd do it again, and again, stringing together a quarter-half mile or more before walking. As the cramping lessened, I could push myself further. Focusing on an external element (vs. your discomfort) can help lower your perceived effort, pain level, and discomfort. Here's a previous post that expands on making your run/race easier!
Lesson #7: Being passed is no fun. The most obvious marathon tip, perhaps. One reason I prefer a more even pace during a marathon is that many people don't pace well. It is much more motivating to pass someone than be passed. When runners passed me, I kept telling myself "focus on your race, your pace, don't worry about them." But, it still bothered me.
Lesson #8: Stop at the medic tent and don't let pride get in the way. I unfortunately had to go over seven miles before I found a medic tent, and then asked for their assistance at that one, and the two following. But be forewarned, they don't know how to assist with all issues — for example, the cramping I was experiencing!
Two More Tips – Make Your Next Marathon Better
Lesson #9: Know how to deal with cramps/stitches. Proper breathing, decreasing pace, not going out too fast, applying pressure to painful area while exhaling, and stretching can help. A great article here provides more detail.
Lesson #10: Expect the unexpected. The race weather forecast – a fairly strong tailwind, but it was actually the reverse, with a strong headwind/crosswind for the majority of distance. Wind forces you to use more energy and work harder, or your effort level increases at the same running pace. This article states that running into a 20mph headwind the energy costs are as high as 20%. Could I have avoided running into a headwind that day? No. But realizing that my effort level was higher to maintain my pace could have helped me manage my concern.